Monday, 21st May 2012
A first for National Trust, Gelder build an Indoor Play Barn
Gelder Major Contracts have just completed an Indoor Play Barn, the first of its kind for The National Trust. Built at Belton House, a Grade I listed country house built in the 17thCentury, the project involved the conversion and extension of a stone storage building into a children's indoor play area. The project also included a new Café, kitchen, Servery and Toilet Facilities as well as storage to support the New Indoor Play barn that accommodates up to 100 children.
The £600,000 construction works were completed over a 16 week period and involveda substantial amount of out of hours working to minimise impact on the National Trust and to ensure the delivery of the project within the tight timescale.
The new indoor play area compliments the existing outdoor adventure playground which is already one of the largest in Lincolnshire giving Belton house the opportunity to remain operational all year round.
The project was completed whilst Belton House remained open to the public.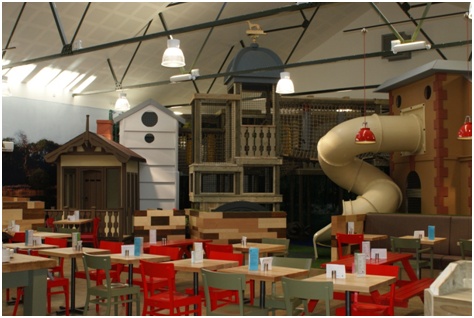 PICTURED: Internal view of the new play barn