Tuesday, 29th May 2012
£25,000 target set to celebrate 25 years in business
The Gelder Group are marking their 25thyear in business by launching a challenge to their staff to raise £25,000 for charity.
The Gelder Group began life on June 10th1988 as SPG Gelder Builders, a two man operation made up of Steve Gelder, now Group MD and Dave Gladwin, now Construction Director. Fast forward some 24 years and the Gelder Group is now one of the region's largest employers with a workforce of over 350 and sales in excess of £40m.
The charities that will benefit from the Group's Silver Jubilee charity year will be the St Barnabas Hospice and The Alzheimer's Society – both these charities were voted for by Gelder staff and the funds raised will be split equally between both charities.
On the initiative managing director, Steve Gelder comments, "this is a very exciting initiative for the Group, we have never had a Gelder Charity before and to launch one during our 25thand Jubilee year seems totally appropriate".
Each office, division and Group company has been given specific targets and these will be monitored throughout the year. During May 2013 at the culmination of the Groups Jubilee year plans are in hand to have an awards evening where representatives from St Barnabas and The Alzheimer's Society will be presented with the money raised.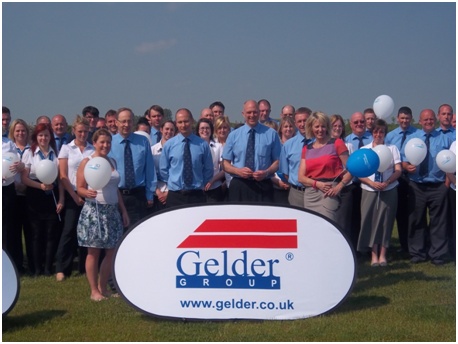 PICTURED: Gelder Head Office staff and Directors with Becky Otter from St Barnabas (left) and Kathy Lowe from the Alzheimer Society (right)